Westbury Music Fair | Westbury, New York
Imagine God gave talent to mankind through rain showers; then George Lopez must've forgotten to bring an umbrella at that very moment. Indeed, he is soaked and drenched in sheer wit, talent, and versatility. It's amazing how a sole performer could manage to command the stage and fill the night with amusing anecdotes, delightful  laugh trips, jovial music, and spontaneous, splendid entertainment. George Lopez can do all that, and is raring and ready to dish out all his tricks in the bag, during his one-night-only comedy concert at the Westbury Music Fair, New York, on the 4th of May 2013.  Be there as the curtain rises at 8:00 pm.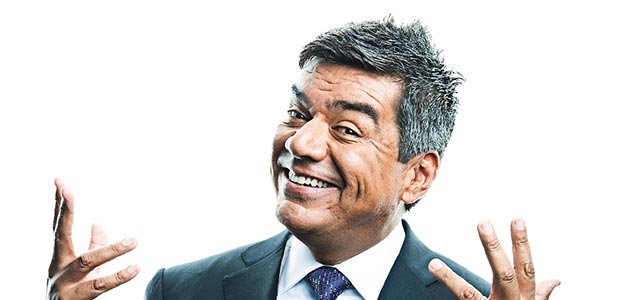 George Lopez has been a prominent fixture on America's entertainment scene.  He is a versatile entertainer who has made a name for himself in the field of film, stand-up comedy, movies, music, and most notably, television.  He his famous for his comedic, slice-of-life take on race and ethnic relations, particularly that of the Mexican-American culture.  His most notable shows include the sitcom "George Lopez", and late-night talk show "Lopez Tonight'.  Lopez is a big hit among syndication viewers of "Nick at Nite", which ranks as one of the the top 5 comedies and one of the top 20 weekly syndicated programs.  He also showcases his hosting chops on the dating series "Take Me Out"; and has graced various HBO comedy specials, which include "Tall, Dark, and Chicano", "American Mexican", among others.  George Lopez can easily carry on with his comedic flair  from boob tube to big screen.  His noteworthy film credits include director Gary Marshall's box-office hit "Valentine's Day", "Beverly Hill Chihuahua", "Swing Vote", "Henry Poole is Here", and "Balls Of Fury".  And as if these were not enough,  George Lopez has also made an imprint in music and concert comedy.  Peers and critics sang praises for his comedy concert "Why You Crying?" ;  and his stand up comedy CDs "El Mas Chingon" and "Team Leader", earned him Grammy nominations for Best Comedy Album.  He further added feathers to his cap as a book writer for his autobiography "Why You Crying?"–which made it to the top 20 of The New York Times Bestsellers' list; and produced an award-winning documentary "Brown is the New Green: George Lopez and the American Dream."  Lopez further cemented his reputation as one of the most decorated entertainers by earning his own star in the Hollywood Walk of Fame, a citation from Time Magazine as one of the '25 Most Influential Hispanics In America', plus other awards, accolades, and recognitions.
Total entertainment — that's what George Lopez offers and delivers.  This may be a one-man-show, but experience a multifarious and full-blown explosion of energy and comedic genius.  A splendid time is guaranteed for all!   Get your tickets now!