NYCB Theatre at Westbury | Westbury, New York
A belly full of laughts and jaw breaking comedy is what you'll get when you buy a ticket to watch George Lopez's "Listen To My Face" tour. Catch his must-see, live, stand-up comedy performance at the NYCB Theatre at Westbury on Friday 17th October 2014.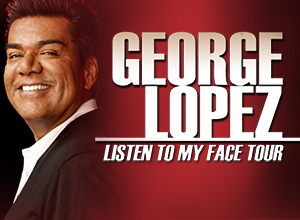 George Lopez is a California native, whose initial foray into showbiz was in 1999, via a top-rating radio morning show for Clear Channel Communications in L.A. He became the first Latino to headline a key morning radio show in an all-English language station. Since then, the celebrity ball started rolling for Lopez. In 2002, he was given a big breakthrough opportunity to star in his own TV sitcom "George Lopez", which was well received by critics and audiences, and capped a successful five-year run. In 2007, his first HBO Comedy Special American Mexican, was aired as well. He also showcased his knack for TV hosting, with two-year airing of "Lopez Tonight", from 2009 to 2011. His second HBO Comedy Special, "Tall, Dark, and Chicano" aired in 2009.
Lopez made significant milestones and brought recognition to his ethnicity. Hence, he was recognized by Time Magazine as one of the top 25 Most Influential Hispanics in America. In 2006, Lopez got his star on the Hollywood Walk of Fame as recognition for his significant contribution in the comedy genre.
His got the face that could launch a thousand laughs. So stop, look, and listen to George Lopez. Drop everything and start getting your tickets now!