NYCB Theatre at Westbury | Westbury, New York
Will the real guitar hero please stand-up?! No one else comes to mind other than guitar god himself, Jimi Hendrix. He may have gone too soon but his musical legacy lives on with "Experience Hendrix". The Experience Hendrix tour leg will be playing 30 dates this year, and one of its major stops will be at the NYCB Theatre at Westbury on Thursday 28th March 2019. This tour brings together an awesome array of musicians and guitar greats to celebrate the legacy and musical genius of Hendrix in a three-hour all-Hendrix extravaganza. The names Dave Mustaine of Megadeth, Joe Satriani, and Bill Cox are reason enough to get Hendrix fans and guitar aficionados hyped-up to witness guitar playing action. Secure your spot at one of this year's monumental music event. Don't miss this chance of a lifetime to be there at music's finest hour. Experience Hendrix now!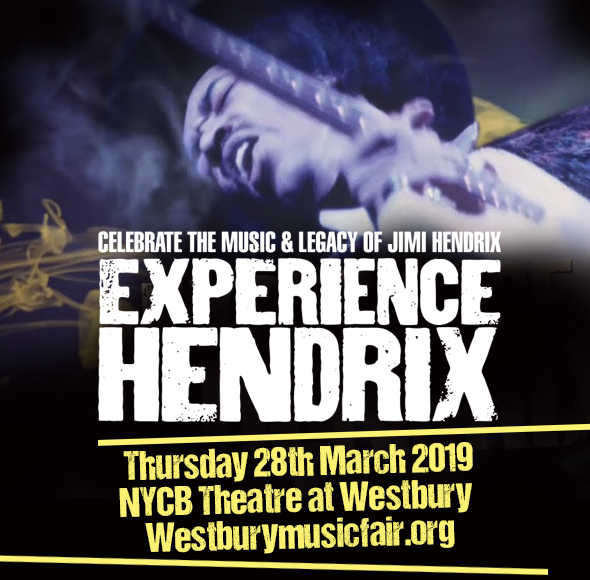 In the summer of 1995, the Hendrix family first ventured in sponsoring a Jimi Hendrix tribute show as one of the attractions at the Seattle's annual Bumbershoot Arts & Music Festival, then at the Jimi Hendrix Electric Guitar Festival. These were the early signs that something bigger was in the works and was bound to happen.
Since then, the Hendrix family took on the cudgels of bringing this experience far and wide over the years. Janie Hendrix, President & CEO of Experience Hendrix, L.L.C. explains: "The Experience Hendrix Tour is a unique opportunity for fans to experience the music and legacy of Jimi Hendrix in a way that CDs simply cannot offer. We felt strongly that a live presentation of the music that Jimi Hendrix created and which inspired him would be an exciting and unique way of conveying his relevance to today's audiences."
What makes this show truly worth experiencing?
Think of guitar heroes that made history and still moving music forward and beyond. You'll find them here.
Joe Satriani
Biggest-selling instrumental rock guitarist of all time, with fifteen Grammy nominations to his name. Satriani uses his guitar wizardry to bring the Hendrix experience to new heights by an pooling together an all-star trio especially for the occasion, calling upon bassist and vocalist dUg Pinnick from King's X, and prolific sideman Kenny Aronoff on drums to serve as his rhythm section.
"The Experience Hendrix Tours are always so much fun," exclaims Satriani. The camaraderie between all the musicians on the show is magical. I'm so excited to play some deep Hendrix tracks in a power trio setting with dUg Pinnick and Kenny Aronoff!!!"
Dave Mustaine
The presence of Megadeth founder and Metallica's original guitarist, Dave Mustaine is a first in this show. Don't say we didn't warn you…the man, who is considered an architect of the speed metal movement, will definitely dish out hard and heavy riffs. "Jimi Hendrix. The name that comes to my mind as one the 'Premiere American Guitarists Of All Time.' An Innovator, and legendary musician, I am beyond honored to do my part in this tribute to the immortal Jimi Hendrix and want to thank [EH Tour producer] John McDermott for inviting me to play along such mind-blowing guitarists as Joe Satriani, and a personal favorite of mine, Eric Johnson. See you there!," Mustaine exclaims with excitement.
Billy Cox
Cox has been a bassist for both Jimi Hendrix's Band of Gypsys and the Jimi Hendrix Experience. He is some kind of a spiritual bridge that connects the past to the present. Since its inception, Cox has been a constant in the Hendrix Experience shows.
Other artists who will be part of the show are:
Blues legend Taj Mahal
guitarist Ernie Isley
vocalist Jonny Lang
the legendary Eric Johnson
Cesar Rosas & David Hidalgo of Los Lobos
drummer and Rock and Roll Hall of Fame inductee Chris Layton of Stevie Ray Vaughan and Double Trouble
Calvin Cooke and Chuck Campbell
the "Sacred Steel" slide guitar masters known as The Slide Brothers
Mato Nanji of Indigenous
Henri Brown
It is but rare to gather such guitar masters all in one room and may be few and far in between to witness them perform in one stage. That's what makes Experience Hendrix an out-of-the-ordinary experience. Don't let this occasion slip through your fingers. Be nimble, be quick to get a grip on those precious tickets and experience Hendrix like never before.