Westbury Music Fair | Westbury, New York
These girls got style, they've got grace…and this guy's got suave and soul.  En Vogue and Lillo Thomas are groovin' down R&B road and making a stop over in New York for a live concert at the Westbury Music Fair, on the 10th of November 2012.  Show starts at 8:00 pm.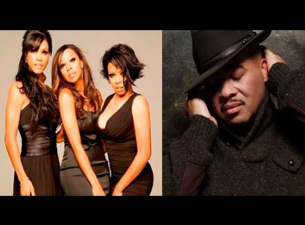 En Vogue has brought their style, glamour, and soul to the MTV generation.  They won a total of seven awards from MTV, and are cited as having the most  MTV Video Music Awards than any other female group in MTV history. Not failing to mention their string of other awards and nominations, including–four Soul Train Awards, six American Music Awards, and seven Grammy nominations.  Billboard certifies that En Vogue has accumulated over 2,800 weeks on various Billboard charts; and ranked them as the 18th most successful act of the 1990s, and one of the most popular and successful female groups of all time.  Their biggest hit singles include: "Free Your Mind," "Hold On", "Lies", "You Don't Have To Worry", "My Lovin' (You're Never Gonna Get It), "Giving Him Something He Can Feel", and a many others.
Sharing the bill on this tour is Lillo Thomas.  Did you know that prior to his recording career, he was a a member of the US track and field team, and set the world record for the 200 meters at the age of sixteen?  He was set to compete in the 1984 Olympics, but was unable to do so due to a car accident.  A loss indeed for the world of sports, but a big gain for the music industry.  Lillo Thomas reinvented himself on moved on to top the charts in the 80's with hits like  "Sexy Girl" and "I'm in Love.".  
Free you mind, and get your tickets now, for the rest of the fans will definitely follow.  You don't want to miss this big back-to-back R&B treat, don't ya?!