NYCB Theatre at Westbury | Westbury, New York
Be there as 'The King' rocks the building! Witness not one, but two world famous tribute artists pay homage to the King of Rock n' Roll, Elvis Presley. "Elvis Tribute Artist Spectacular" comes to NYCB Theatre at Westbury on Saturday 23rd August 2014.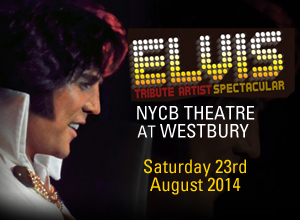 Can't get enough of Elvis? Get a back-to-back Elvis tribute concert experience as the 'dynamic duo'of the of Elvis kingdom pay homage to the music of one of the greatest artists who ruled over rock and roll music. Shawn Klush and Cody Ray Slaughter will fill the night with songs and nostalgia as they dish out your favorite Elvis hits.
Shawn Klush has been touted many times as 'the closest to The King in concert'. Before making it and getting into a professional career as an Elvis impersonator, Klush has bested several wannabe-Elvis tribute artists, in several prestigious contests. He won the "Worldwide Elvis Competition" in Montreal in 2005; and became $25,000 richer for bagging the grand champion award in the "World Elvis Tribute Artist Competition". In 2007, the BBC awarded him as World's Greatest Elvis, in a competition held in the United Kingdom. And this year, he is the reigning Gibson Guitar's 'People's Choice' awardee as "Best Concert Elvis".
The other Elvis to be showcased in this concert is Cody Ray Slaughter. In 2011, The Elvis Presley Enterprises named him as their Ultimate Elvis Tribute Artist, the youngest man so far to receive such an award. He has also portrayed the young Elvis Presley in stage shows and musical shows which include Tony Award winning hit musical 'The Million Dollar Quartet'.
Experience and relive Elvis Presley's music as he evolves from the 50's pelvis days to hot leather Elvis, to jumpsuit viva Las Vegas entertainer, and on to his great legacy of lording over rock and roll! That's all in one night of nothing but spectacular Elvis music. Don't miss it!