NYCB Theatre at Westbury | Westbury, New York
From baby boomers to the selfie-generation, here's one throwback party you shouldn't dare miss!
Have a fab evening celebrating the music of the 50s and the 60s in this year's Doo Wop Extravaganza. Catch it at the NYCB Theatre at Westbury on Saturday 20th September 2014.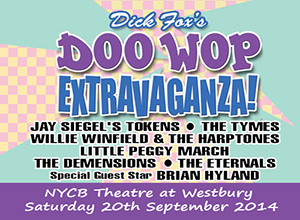 Call it old school, but the music of the 50s and 60s still rule! Year after year, the Doo Wop Extravaganza has brought together in one stage, top notch entertainers and genuine 50s and 60s hitmakers to bring a delightful evening of smooth as silk vocal harmonies, catchy, and unforgettable melodies. This year is no exception. The Doo Wop Extravaganza features these top-billing performers:
JAY SIEGEL'S TOKENS: That soaring and highly-recognizable falsetto from the classic hit "The Lion Sleeps Tonight", belongs to none other than Jay Siegel with his band The Tokens. Generation X, Y, and millenials would be quick to say that they heard it from the Disney movie "The Lion King", but for baby boomers, they heard it first on the radio and in dance halls, and has created a massive hit single for The Tokens back in the day. Hear Siegel dish out his roaring falsetto live, and witness how this song could unite music tastes from all ages.
THE TYMES: You may call them one-hit-wonders if you like, but no one can deny that the wonderment for their only US chart-topping, million-seller hit single "So In Love" has never faded away all these years. In 2001, "So In Love" was listed in the top Songs of the Century; and were inducted to the Vocal Group Hall of Fame, in 2005.
Here is the complete line-up of Doo Wop Extravaganza 2014:
Jay Siegel's Tokens
The Tymes
Willie Winfield and The Harptones
Little Peggy March
The Demensions
The Eternals
and special guest star Brian Hyland
Age is but a number. The Doo Wop Extravaganza is a musical experience that the whole family will love. Give your family this wonderful treat. Get your tickets now!