NYCB Theatre at Westbury | Westbury, New York
Long live rock n' roll! One of the bands who keep the flames of rock burning is none other than Cheap Trick. Touted as one of the bastions of rock, Cheap Trick has been holding their torch since the '70s, yet still, they're unstoppable! Catch their legendary name up in neon lights as they hit the stage of the NYCB Theatre at Westbury on Saturday, 2nd March 2019. You surely would not want to miss this for the world. Expect massive crowds flocking to this show, so better yet secure your spot. The trick is to book your tickets now!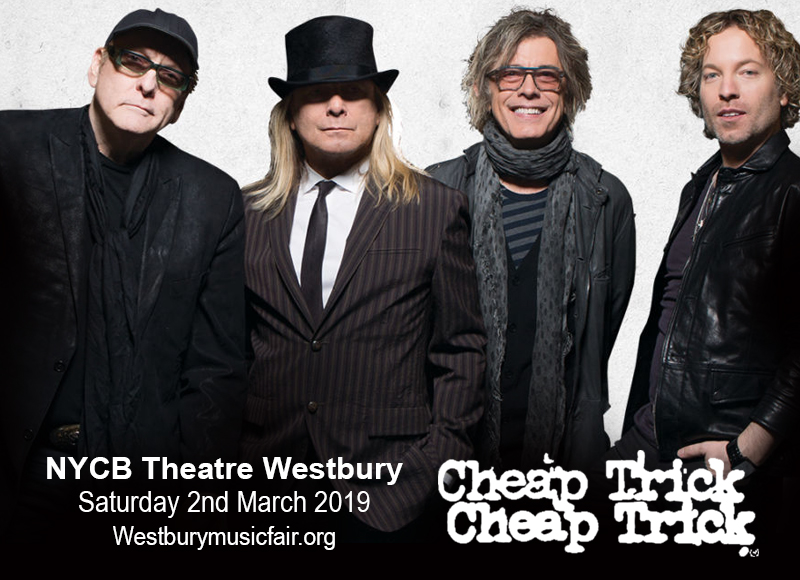 Cheap Trick is hailed as an iconic band who were one of the forerunners of a movement in the '70s that blended elements of pop, punk, and metal into their catchy and quirky sound.
Founding member Rick Nielsen formed the band in 1973 in Rockville, Illinois, where they started developing a fan base from live local gigs. They released their debut album in 1975 that was hailed by critics and loved by fans. From there, the wheels of their career took them on a roll. With the release of their second album, "Colors", the band skyrocketed to fame with the singles "I Want You to Want Me" and "Southern Girls". With 20 million records sold, 29 movie soundtracks, 40 gold, and platinum recording awards, and over 5,000 performances to their name, Cheap Trick is now considered a national treasure.
With their timeless gems such as "I Want You to Want Me," "Surrender," and "The Flame," every hardcore fan want a piece of them, and this show, in particular, may be one of the most coveted tickets around.