NYCB Theatre at Westbury | Westbury, New York
The "Dog Whisperer" is coming to NYCB Theatre at Westbury on Sunday 21st June 2018! Self-taught dog behaviorist Cesar Millan will be bringing his signature show to the NYCB stage, rehabilitating our canine friends and training their owners for doggy happiness!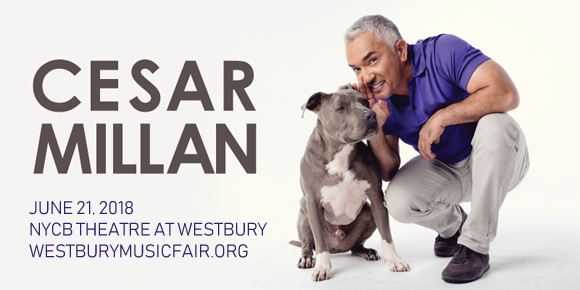 Mexican-American dog behaviorist and reality television star Cesar Millan is best known for his Emmy-nominated television series Dog Whisperer with Cesar Millan. A trained dog psychologist, with over 25 years of canine experience, Millan was offered a television pilot for Dog Whisperer, a reality television series, in 2002 after a profile in the Los Angeles Times. Premiering in 2004, the show became National Geographic's number one show during its first season and was broadcast in more than eighty countries worldwide during its run. Millan is also an author and his first three books, including Cesar's Way (also the name of a magazine that he launched in 2009, which ran through 2014), all became New York Times best sellers.