Westbury Music Fair | Westbury, New York
Brian Setzer has not stopped rockin' this town!  Now armed with a full orchestra,  The Brian Setzer Orchestra will not only stray to this side of town, but   they're  giving  you a rockin' Christmas too, with a tour dubbed as the 'Christmas Rocks! Extravaganza'.  Catch The Brian Setzer Orchestra at the Westbury Music Fair in New York, on the 27th of November 2012.  Show starts at 8:00 pm.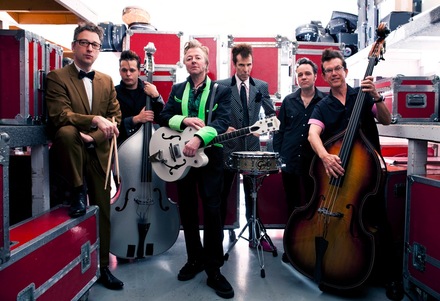 Former Stray Cats' frontman Brian Setzer is still rockin' the town to this day.  He may no longer be with the 'cats', but he's taken along a full orchestra with him.  BSO, or The Brian Setzer Orchestra was formed in 1990 by Brian Setzer himself.  As a kid in school, his vision was to front a big band with an electric guitar.  Now, his vision has come to pass.  The Brian Setzer Orchestra plays swing, jump blues, rock and roll, rockabilly, with a full section of trumpet, trombone, saxophone, piano, string bass, drums, and Setzer on guitar and vocals.  One of their most notable covers was Louis Prima's "Jump Jive an' Wail".  From then on, the band was highly in demand for US and world tours.  The Brian Setzer Orchestra has been a regular featured artist, gracing the Rockefeller Center tree lighting ceremony.  They are best-loved for their fun and exhilirating renditions of Christmas songs.
If you're up for an early Christmas cheer, The Brian Setzer Orchestra can give you so much more!  Join the riot! This will definitely set you in the mood to rock for Christmas.  Buy your tickets now!