NYCB Theatre at Westbury | Westbury, New York
The most popular zip code in America is on open-house! Indeed, two of the most gorgeous cast members of the iconic TV series Beverly Hills 90210, Jennie Garth & Tori Spelling are not only touring the neighborhood but are also treating their fans to a girls night out. With the recent reboot of the famed TV series, fans are giddy and are now on a frantic hunt for tickets. No need to scour the whole neighborhood. You could score tickets without leaving your seat. Just click 'buy tickets' on this website, then you'll be well on your way to catch Beverly Hills 90210: Jennie Garth & Tori Spelling at NYCB Theatre at Westbury on Tuesday 19th November 2019. Don't miss it!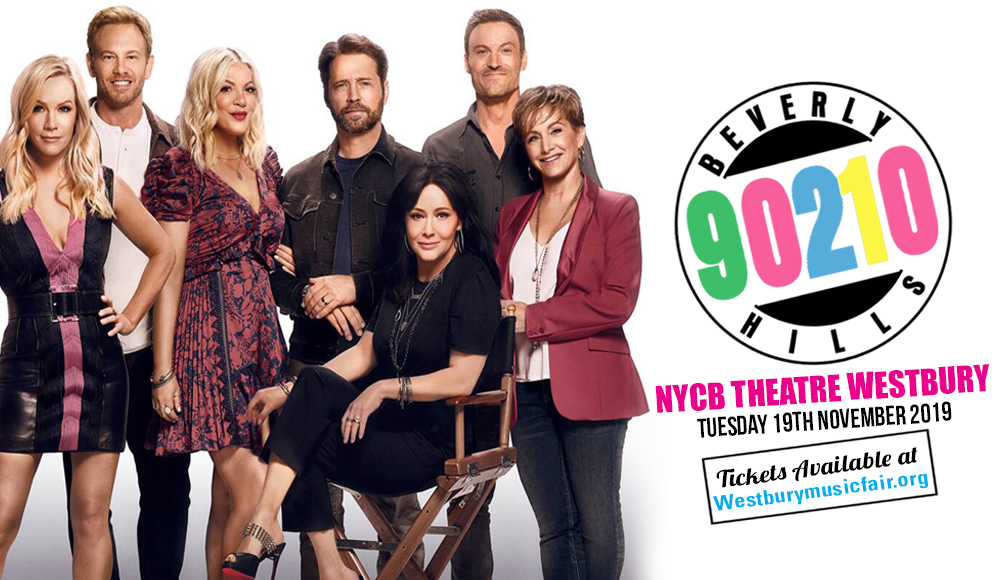 Want to spend a girls' night out with Kelly and Donna? Who wouldn't want to hang with two of the most gorgeous and popular gals on the coolest zip code in America! Yes, that's "Jennie Garth & Tori Spelling Live: A Night to Remember." These two actresses who played Donna Martin and Kelly Taylor on Beverly Hills 902010, which got a 2019 reboot recently, aim "to bring the ladies of '90210' to zip codes across America for the ultimate girls night. The evening promises to be filled with memories and laughs, and of course a ton of fun, at an event best described as an interactive, live talk show hosted by Jennie and Tori. Audience members can expect the unexpected, becoming as much a part of the show as Jennie and Tori. This is the can't-miss experience that fans who have grown up alongside them have been waiting for — where anything can happen live! It's Jennie and Tori's party, and they'll do what they want!"
Beverly Hills 90210 was a teen drama series which aired in October 1990. The show became a pop culture phenomenon worldwide, and the stars turned superstars overnight. The series ended in May 2000, but it impacted a whole generation of fans.
"Tori and I have been dreaming up this tour for a long time," said Garth. "We've wanted to have that one-on-one experience with our fans who have supported us throughout the years. Each night on stage, we're going to have a brand new show, sharing laughs, playing games, drinking a cocktail, answering your questions and, of course, telling you all of our '90210' stories. What could be better than hitting the road with my best friend?"
Added Spelling: "I love the relationship I have with my best friend Jennie. No one makes me laugh harder than she does. We have such amazing stories to tell. Now, we get to share our special friendship with our fans LIVE! Bring your BFF and come enjoy an interactive experience with me and my BFF. It'll definitely be a night to remember!"
Hey, hey, the gang's all here! Relive great memories and create new ones. This is an exciting reunion. Be there or be square!