Westbury Music Fair | Westbury, New York
The reigning King of Blues, B.B. King has not ever rested on his laurels.  At the age of 87, B.B. King continues to carry his guitar on the road and performs live on stage before legions of adoring fans. New York will be part of his numerous stopovers, and he is set to take centerstage at the Westbury Music Fair on the 2nd of December 2012.  Show starts at 7:00 pm.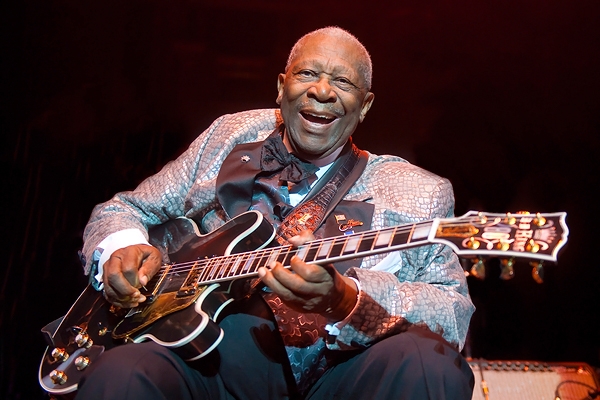 He may be touted as the King of Blues, yet that is still quite an understatement.  B.B. King may be the reigning blues king here on earth, yet his masterful guitar riffs make him seem like a guitar god sent from heaven to chase our earthly blues away.   King is a permanent fixture at Rolling Stone magazine's 100 greatest guitarists of all time, ranked at No. 6 on the list; along with his  No. 17 position at Gibson's Top 50 Guitarists of All Time.  He started his music career in 1949, yet his influence on both superstar and aspiring guitars are still impacting to this day.  Edward M. Komara, says that King "introduced a sophisticated style of soloing based on fluid string bending and shimmering vibrato that would influence virtually every electric blues guitarist that followed.
King is also an accomplished singer-songwriter and has penned and recorded some of the greatest rock n' roll hits like  "3 O'Clock Blues", "You Know I Love You," "Woke Up This Morning," "Please Love Me," "When My Heart Beats like a Hammer," "Whole Lotta Love," "You Upset Me Baby," "Every Day I Have the Blues", "Sneakin' Around," "Ten Long Years," "Bad Luck," "Sweet Little Angel", "On My Word of Honor," and "Please Accept My Love," and of course, his signature monster hit single "Lucille".
Just like a king, he is a hardworking, driven, passionate, and tireless artist who still travels the world to perform even at the twilight age of 87.    He is currently touring and performing, doing 100 shows a year; yet during his heyday during the 60s and 70s he was gaining travel miles equivalent to  250 to 300 concerts in a year.

Still got the blues? Getting a ticket to see B.B. King could erase all your worries away.  This is a performance by a living legend. You'd be kicking yourself in regret if you miss this one!