Westbury Music Fair | Westbury, New York
This is not an April Fool's joke, but this show will definitely crack you up!  The April Fool's Comedy Jam is an annual jam session of laughter, gags, and anything and everything that could tickle your funny bones.  This time, the brightest and the funniest comedy superstars will converge at the Westbury Music Fair in New York, on the 31st of March 2013.  This is no ordinary laugh trip.  This comedy marathon will start at 8:00 pm.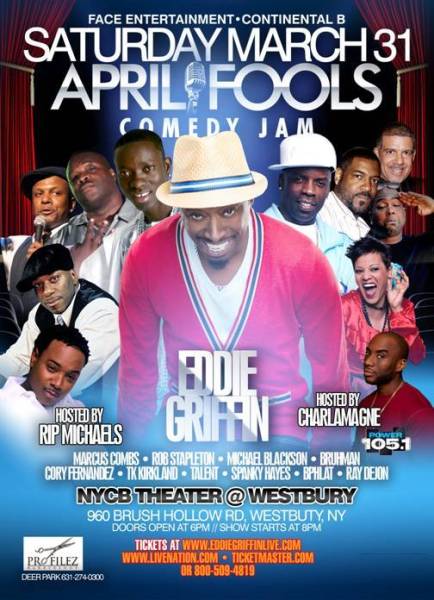 The comedy credentials of these stand-up comedians are no laughing matter.  One look at these names, you could really tell that they are seriously good at throwing the wackiest punchlines ever.
The April Fool's Comedy Jam is headlined by:
EDDIE GRIFFIN
MICHEAL BLACKSON
BRUH MAN (FROM MARTIN)
TK KIRKLAND
COREY FERNANDEZ (FROM THE COOKOUT)
SPANKY HAYES (FROM WILDING OUT)
ROB STAPELTON
TALENT
MARCUS COMBS
& BPHLAT
Hosted by:
POWER 105'S BREAKFAST KLUB CHARLEMAGNE THE GOD
& NYC FAVORITE COMEDIAN RIP MICHEAL
Give your heart and facial muscles the best theraphy it could ever get.  Treat yourself to this rollicking comedy marathon to keep your happy hormones  in tip-top shape!