NYCB Theatre at Westbury | Westbury, New York
Re-live your "younger years" and see your favorite Animaniacs characters sing live on stage in Animaniacs Live! In Concert at NYCB Theatre at Westbury on Saturday, January 22nd, 2022. A musical revue starring original cast members Rob Paulsen (Yakko, and Pinky from Pinky & the Brain), accompanied by Emmy winning composer Randy Rogel, who wrote and created many of those memorable songs you STILL can't remove from your brain! Grab your tickets and come along to a show that will take you back, visit old friends, Yakko Wakko and Dot, Pinky and the Brain, and many many more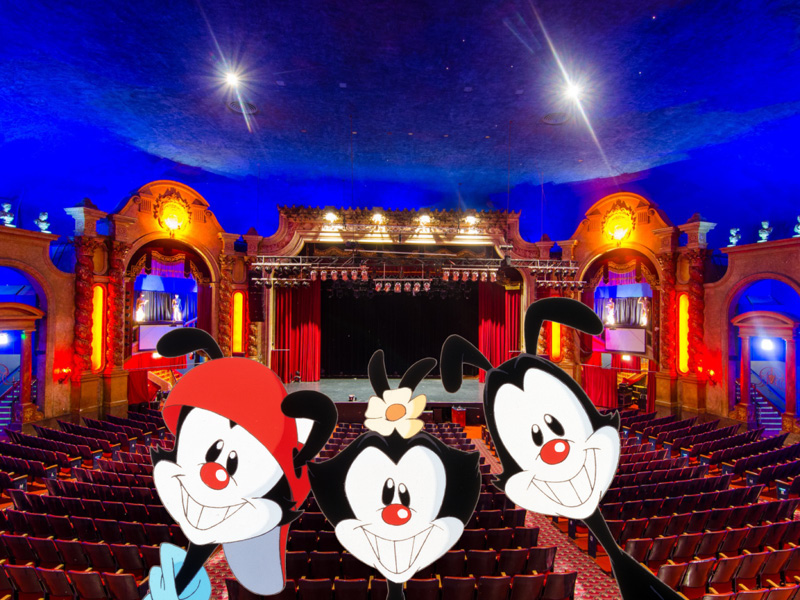 "An eye-popping, foot tapping, absolute gem of a show which leaves you grinning from ear to ear. Even if you don't know Animaniacs, even if you don't own a television, the manic energy and unbridled charisma of these two insanely talented artists will sweep you away." – Entertainment.
Debuting in 1993, The Animaniacs blurred the line between children's show and adult comedy. It featured three animated siblings, Yakko, Wakko and Dot, who lived in the water tower over the Warner Brothers Studio and engaged with characters both real and imagined. The show had an irreverent tone reminiscent of the classic Looney Tunes and featured a galaxy of memorable characters including a buxom blonde nurse, Hello Nurse! A trio of Italian American pigeons, The Goodfeathers, and a giant mouse with an evil genius companion who's determined to take over the world, Pinky and the Brain.
Robert Frederick Paulsen III, is best known for his voice roles as the Teenage Mutant Ninja Turtles, Yakko Warner, Dr. Otto Scratchansniff, and Pinky from Animaniacs and Pinky and the Brain, Carl Wheezer from Jimmy Neutron: Boy Genius and its spin-off television series, The Adventures of Jimmy Neutron, Boy Genius, and Peck the Rooster from Barnyard and its spin-off television series, Back at the Barnyard. And that is only a fraction, in total Paulsen has been the voice of over 250 different animated characters from film, television, Video games and live action, and voiced over 1,000 commercials.
Writer, performer, singer, songwriter, and pianist, Randy Rogel is best know for his writing on several Warner Brothers projects, including the very music oriented show Animaniacs, and for Batman: The Animated Series. He wrote the Emmy Award Winning Episode Robin's Reckoning.