Westbury Music Fair | Westbury, New York
Country music lovers know the sound, scent, and feel of a genuine country music artist when they hear one.  There's no denying, Alabama is the real deal.  With over 30 years of unprecedented success, Alabama's ever-loyal set of hard-core fans know them with their heart and soul.  And, the country wind is heading towards the direction of New York; Alabama's music is blowing in the wind.  On the 1st of May, the smell, sights, and sounds of good ole' southern country rock music will fill the air as Alabama  hits the stage at the Westbury Music Fair.  If you don't want to miss  anything, come in on or before 8:00 pm.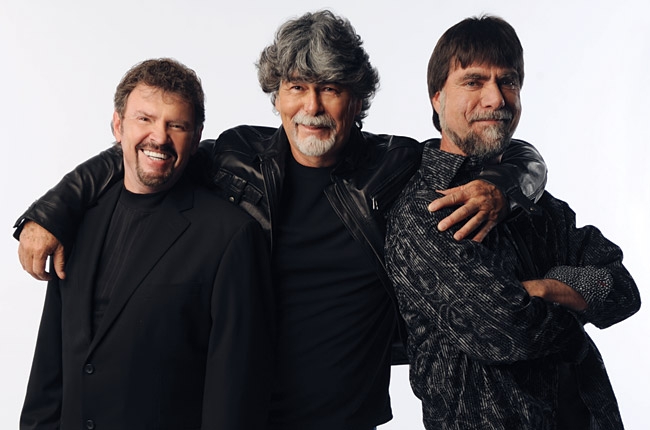 21 Gold, Platinum, and Multi-Platinum albums. 43 #1 singles, and over 73 million records sold.   Over 150 industry awards including eight country music "Entertainer of the Year" honors. Two Grammys. Two People's Choice Awards.  A star on the "Hollywood Walk of Fame."   These facts and figures alone are a testament to honorable and legendary status of Alabama.
For some thirty or more years ago, Alabama has opened the floodgates for country music groups to attain mainstream success, once dominated by solo country music artists.   Randy Owen (lead vocals, Rhythm Guitar) and his cousin Teddy Gentry (bass guitar, background vocals), soon joined by Jeff Cook (Lead Guitar, fiddle, keyboards), were the core members that got together in 1969, who them called themselves "Wildcountry".  The band 'paid their dues', so to speak — starting off as a back-up band and eventually, house band at The Bowery in Myrtle Beach, South Carolina.  Their brand of country music is a hybrid of genres like gospel and pop music, giving their sound a crossover appeal.  Alabama has the passion to go on extensive tours, and they are one of the first country music acts to infuse rock-concert-inspired sets, lighting, and staging elements.  Alabama's most recognizable and enduring songs include "I Wanna Come Over",  "Tennessee River", "Why Lady Why", and many others.
"We've done a lot of things in our career by pure accident, there's been a lot of luck involved," says Randy Owen.   "Following our hearts and our feelings.  We did it all just by being ourselves."… 
Alabama fans are following their hearts as well, that's why the music of Alabama definitely hits home.  Alabama has touched millions so it would not come as a surprise if people are raring to watch the show.  Don't miss it, buy your tickets now!