---
50 Summers of Love: The Fab Four, Micky Dolenz & Mark Lindsay - Tickets available.
NYCB Theatre at Westbury | Westbury, NY
---
Celebrate 50 years since the Summer of Love with some of the biggest acts from 1967! Join Mark Lindsay of Paul Revere and the Raiders, Micky Dolenz of the Monkees, and Beatles tribute band The Fab Four, as they take you back to a groovier time! Catch this landmark tour at NYCB Theatre at Westbury on Friday 28th July 2017!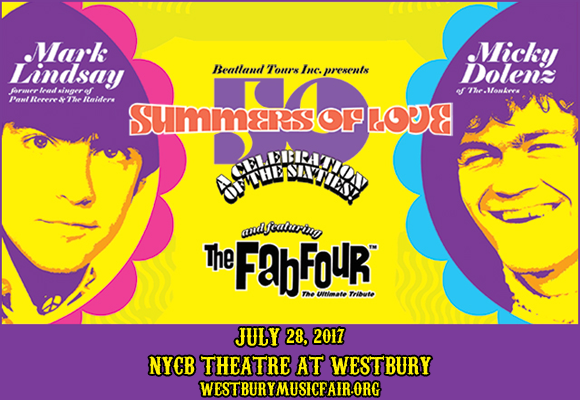 "The Fab Four sets the standard! I have seen them at least 4 times as they Rocked their way through Central Florida. Their dedication to detail and the respect they have for the music they preform live with no backing track is unsurpassed. Ardy Sarraf as Paul McCartney Tyson Kelly as John Lennon and Gavin Pring as George Harrison create a special connection with their audience that is truly magical. You are transported back to a time when four young lads from Liverpool led a musical and cultural revolution.
Mark Lindsay from Paul Revere And The Raiders is in great voice and sings the great hits that still play on oldies satellite and radio. His stage energy is contagious and his story telling of how the songs got made is a wonderful addition to his performance.
Micky Dolenz of the Monkees is an amazing entertainer. The songs he sings and reflects upon are as wonderful today as they were back in 1966. Like the Fab Four and Mark Lindsay's sets you will be singing and dancing to songs that are truly fabric of our American heritage.
This is the show you want to take your kids, grandkids, anyone you want to introduce and share a great night of music that defined a generation."